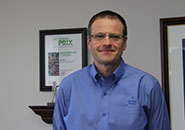 Eric Ashby
General Mill Manager
Windsor Domtar
UPCOMING MILL MANAGERS WEBINAR:
Creating a Just Culture
The Mill Managers Community will be hosting a webinar entitled "How to move the culture to interdependency by creating a just culture" June 3, 2016, presented by Eric Ashby, General Mill Manager at Domtar Windsor.
A just environment is all about getting the balance right between how willful violations and unintentional errors are addressed in the organization. This Webinar defines an approach to move to a just culture.