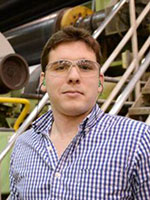 J.R. Justin Charron, PEng
PM1 Technical Assistant
Irving Paper Limited
PaperMaking Technology Commitee Leader


Doug Barbour
Nanaimo Forest Products / Harmac Pacific
Alkaline Pulping Commitee Leader

PAPTAC Alkaline and Papermaking Committee Meetings at PacWest Conference 2018

The PACWEST 2018 Conference will be held at the Fairmont Jasper Park Lodge, Alberta, Canada, May 30 - June 2, 2018 - hosting two PAPTAC Commitee Meetings.

The PAPTAC Papermaking Technology Committee (PMTC) will host a roundtable on May 30, 2018 at 3:00 PM, in conjunction with PacWest Conference.
Some of the points of discussion will include Paper machine safety, Operator training, Mill process improvement case studies, Shutdown planning, Pulp drying runnability and sheet break reduction.
The PAPTAC Alkaline Pulping Community (APC) is again hosting a Digesting/Washing Superintendents roundtable to be held on Wednesday May 30, 8:00 AM to 5:00 PM, in Jasper AB as part of the 2018 PacWest Conference.
The one day event will focus on mill safety, projects and mill operations. It will be based on the participants questions/interests with an emphasis on operational issues associated with cooking and washing.