James Olson
Associate Dean, Research & Industrial Partnerships - UBC
James A. Olson, Ph.D. P.Eng, is a Professor of Mechanical Engineering and the Associate Dean, Research and Industry Partnerships. He was the past Director of UBC's Pulp and Paper Centre and is an internationally recognized forest products researcher who has been actively involved in the transformation of the forest sector into a vibrant diversified bio-products industry. He currently leads a $4M research consortium focused on industrial energy conservation, as well as a research group focused on the development of novel biomaterials. His research has been the recipient of 2 NSERC Synergy Awards, the 2008 Lieutenant Governor's Award for Innovation, the 2009 Fundamental Research Committee's Van den Akker Gold medal and several best paper awards.
I began my German university degree in the department of mechanical engineering in 1996 at the University of Technology (TUD) in Dresden/Germany. I then began a Masters degree in Chemical and Biological Engineering at UBC in September 2003 and transferred after 1 year of coursework to the PhD program without writing a Master thesis. On June 15, 2009, I successfully defended my PhD thesis, which had the topic of "Measurement of Heterogeneity in Low Consistency Pulp Refining by Comminution Modeling".

Since 2009 I am working as a Post Doctoral Fellow here at UBC.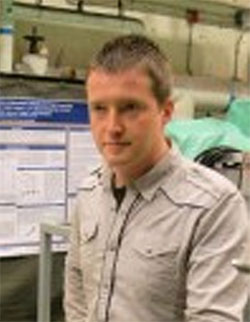 Jens Heymer
Research Engineer, Dipl.-Ing. (TU), PhD Pulp and Paper Centre - UBC