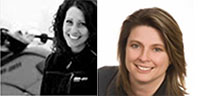 Mireille Couture, Talent Acquisition Specialist, Bombardier Recreational Products (BRP) and Christiane Jacques, Human Resources Service Manager, Bombardier Recreational Products (BRP), will give a Keynote presentation on wednesday's Business Luncheon.

INDUSTRY WORKFORCE TRACK AT PAPERWEEK - Wed. Feb 5
With the support of AkzoNobel

As part of wednesday's workforce renewal track, Mireille Couture and Christiane Jacques from Bombardier Recreational Products (BRP) will give the Luncheon's Keynote presentation: ''Move on to Web 2.0 Hiring : build a business plan adapted to your company''.
Workforce renewal is a growing need and key priority in the forest products industry. Whether it is for mechanics, engineers, researchers, electricians or equipment operators, the industry will need to promote the incentives and benefits of working in the pulp and paper and forest products industry in order to draw new talent in these positions.