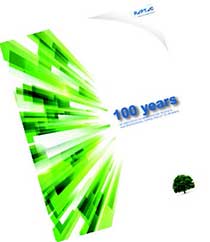 PAPTAC is celebrating its 100th Anniversary in 2015, a great milestone for our Association that has been serving the industry since 1915. To commemorate this event, PAPTAC will be producing a special 100th Anniversary book, to pay tribute to the most important technological advancements, breakthroughs and cornerstones in the evolution of the industry over the past century ─ the foundation for the next 100 years...
This book is a tribute to a great milestone and the indelible mark of this accomplishment which gives us plenty to look forward to in the future.
The official launch will take place next February at PaperWeek Canada 2016 in Montreal.
In its efforts to underline excellence for the pulp and paper industry, PAPTAC is pleased to launch its 2016 National Business Awards in conjunction with PaperWeek Canada which will be held in Montreal February 1-5, 2016.

These recognitions provide an opportunity to promote the highest levels of business leadership in the Canadian pulp & paper and forest-based industry and are awarded on the largest National platform during PaperWeek Canada, organized by PAPTAC.

Click here for all details on the PAPTAC Business Awards 2016