Paul R. Stuart
Chief Scientific Editor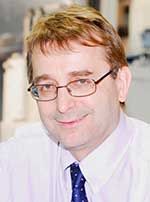 Patrice Mangin
Deputy Editor
We are pleased to announce that Paul Stuart, École Polytechnique de Montréal, will succeed Honghi Tran as Chief Scientific Editor of J-FOR. Paul Stuart was Deputy Editor of J-FOR under Honghi Tran and ensures a natural leadership progression for the journal. He will count on the collaboration of Patrice Mangin, CRML/UQTR and PAPTAC Councillor, as Deputy Editor.
PAPTAC and J-FOR are privileged to count of the involvement of expert volunteers of this calibre and notoriety, which reflects on the success and growth J-FOR has had since its inauguration. - Greg Hay, PAPTAC Director
We take this opportunity to thank Honghi Tran for his incredible work and leadership to help establish J-FOR as the peer-reviewed journal of reference for forest products science and technology.
Click here to access J-FOR