J-FOR Vol 4 No 6 now available on-line
Mechanical Pulping Community Webinar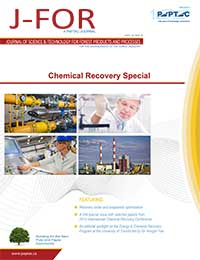 We are pleased to be sending you the sixth and final issue of J-FOR's Volume 4.
This issue includes selected papers from the 2014 International Chemistry Recovery Conference, and an editorial on the Energy & Chemical Recovery Program at the University of Toronto under the leadership of Dr. Honghi Tran.

The PAPTAC Mechanical Pulping Community will hold a webinar entitled "Impact of Mechanical Pulps on Paper Machine Wet End Chemistry, Runnability a Paper Quality" on September 25, 2015 - 13:00-14:00 ET.

This webinar will be presented by Dr. Przemyslaw Pruszynski, Global Technical Specialist - Paper Chemistry at Nalco.