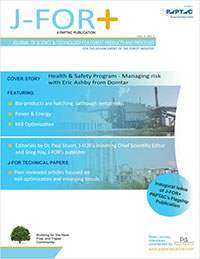 PAPTAC LAUNCHES J-FOR+
PAPTAC is pleased to announce the upcoming launch of J-FOR+, an enhanced edition of J-FOR, that will include industry news, editorials, special interviews and market information, as well peer-reviewed papers that will focus specifically on mill technology, applications and optimization. J-FOR+ will also count on the collaboration of Paper Advance to publish up-to-date industry news and information.
We are very proud of this new initiative. J-FOR has continued to increase its readership and visibility in Canada and internationally as a highly respected peer-reviewed journal serving the forest products industry. J-FOR+ becomes the natural progression to increase its role and presence in the mills and establish itself as the flagship publication of PAPTAC. - Greg Hay, PAPTAC Director
J-FOR+ will be printed and published twice a year and will be distributed to all mills in Canada as well as internationally through PAPTAC's international partners and J-FOR's worldwide subscribers. The inaugural issue of J-FOR+ is scheduled to be published in November.
New Leadership at the Helm of J-FOR
We are pleased to announce that Paul Stuart, École Polytechnique de Montréal, will succeed Honghi Tran as Chief Scientific Editor of J-FOR. Paul Stuart was Deputy Editor of J-FOR under Honghi Tran and ensures a natural leadership progression for the journal. He will count on the collaboration of Patrice Mangin, CRML/UQTR and PAPTAC Councillor, as Deputy Editor.
PAPTAC and J-FOR are privileged to count of the involvement of expert volunteers of this calibre and notoriety, which reflects on the success and growth J-FOR has had since its inauguration. - Greg Hay, PAPTAC Director
We take this opportunity to thank Honghi Tran for his incredible work and leadership to help establish J-FOR as the peer-reviewed journal of reference for forest products science and technology.