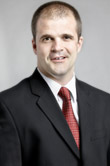 Robert Larocque
Director, Environment
Bob Larocque joined FPAC in April 2011 as Director, Environment. Bob works with members companies on policy and technical issues relating to environmental regulations. He is also responsible for environmental data collection and sustainability reporting for the pulp and paper and wood products sectors.
Before joining FPAC, Bob held several positions at Environment Canada in regard to mitigating the risk of toxic substances on the environment. He also worked previously as a process engineer in a large pulp mill.
Bob holds a B.Sc. in chemical engineering from the University of Ottawa.