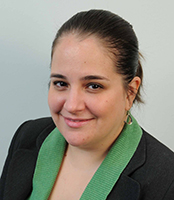 Myrzah Bello
M. Sc., M. Env.
Director, Climate Change
SNC-Lavalin Environment & Water
Myrzah Bello is Director, Climate Change for SNC-Lavalin Inc, Division Environment & Water. She holds a bachelor's degree in commerce, a master's degree in international business and another in environment.
In the last twelve years, she has been involved in various climate change related studies in Canada and abroad ranging from greenhouse gas emissions quantification, reduction action plans development to climate change adaptation. She has worked for industries, municipalities, associations, and different levels of government. She has also acted as lead verifier of various emission inventory verification projects.
With regard to carbon emission schemes, Mrs. Bello has been involved in assisting industries in Quebec negotiating GHG emission reduction targets with the province's environmental ministry in the Western Climate Initiative context. Helping industries since 2010 in getting prepared to these new regulations, she has accumulated wealth of knowledge on the province's cap and trade system, which will be the topic of her presentation.