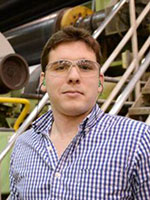 J.R. Justin Charron, PEng
PM1 Technical Assistant
Irving Paper Limited
Community Leader, PMTC
Justin Charron, Irving Paper, to head PAPTAC's Papermaking
Technology Community
J.R. Justin Charron, PEng, PM1 Technical Assistant at Irving Paper Limited will be the new Leader of the PAPTAC Papermaking Technology Community.
Together with Justin, a steering team comprised of liaison councillors Tom Paisley, Irving Paper and Jean Houde, Papiers Rolland, as well as Javad Saberian, FPInnovations, will lead the activities of the PMTC going forward. The steering team is planning a face to face meeting this Fall to work on a complete program of webinars as well as the Papermaking Track at Paperweek Canada 2018.
"After ten years of experience in the pulp and paper industry in various technical and operational roles in Kraft pulping, tissue making, and most recently producing supercalendered paper, I am continuously amazed by the advancement in technologies and methods used to improve productivity, quality, environmental effects, and competitiveness in our industry. I look forward to meeting you at our next PMTC event!"